Here are five vital skills for every writer to master.
So many people ask us: what writing skills do I need to improve my writing?
There are thousands of rules and skills that go into writing an engaging piece. Many writers take these skills for granted: they don't realise they are doing many of the right things already. But if you've always wanted to know what it takes to write well, read on!
You can stack writing skills hierarchically into five levels that increase in abstraction. It's challenging to master a skill higher up the hierarchy if you haven't attended to the lower, more basic skills beforehand. So let's start at the very beginning with the basic skills.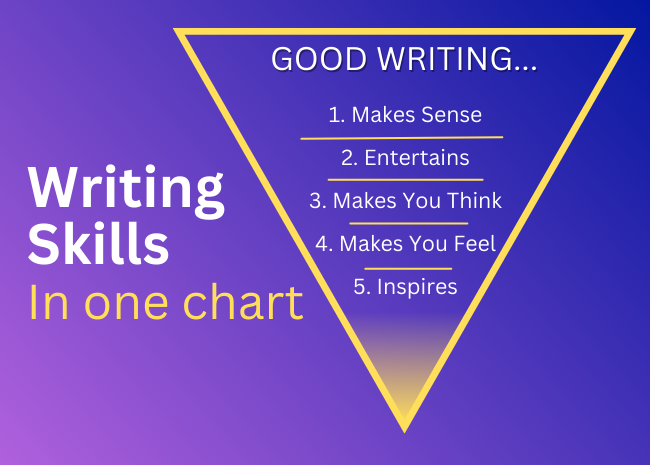 Your writing must make sense.
Firstly, you need to satisfy the most basic requirements: get your head around good grammar, punctuation, paragraphing and logical flow. We're talking about thousands of rules here! Writing that makes sense is the focus in our Grammar and Business Writing Courses.
Your writing must be enjoyable to read.
Secondly, for writing to be compelling and entertaining, you use a different skill set to the basics. These skills include pace, tension, word choice, structure, plot, characterisation, dialogue, imagery, metaphor, simile, and the list goes on. Our Journalism Courses and Creative Writing Courses cover these skills.
Your writing must make the reader think.
We have millions of fluff pieces and light novels online and in print. Yes, they can be fun and enjoyable to read, but could they alter the course of a reader's life? Probably not.
Shifting up to the third level on the ladder of abstraction means learning how to produce thought-provoking writing. You can level up by incorporating snippets of interesting research, reading and life experience.
Journalists, content writers and authors of non-fiction books in particular need these skills, but even fiction writing should be well-researched and factually accurate.
4. Your writing must make the reader feel.
This fourth level – engaging the reader's emotions – is one of the more intricate skills to master. How do you get your reader interested in your characters? Why should they read to the end? Now we are moving into the terrain of authenticity and credibility in your writing.
Being able to stir emotions is a skill that takes much practice to learn, and it's something that we can only teach retrospectively at the college – by reading your work and saying, 'Yes, this writing moves me,' or 'No, this character's actions don't ring true. Try this instead.'
These are skills that we teach in both our non-fiction,  creative writing courses and advanced creative writing courses.
5. Great writing inspires the reader.
Think of books you've read that have stayed in your thoughts for days or even weeks. For instance, Noble Prize for Literature winners, writers like Saul Bellow, Isaac Bashevis Singer, Toni Morrison, Alice Munro, Kazuo Ishiguro, among dozens of others. How did their books change your outlook on life?
It's hard to pinpoint – let alone teach – this skill. Instead, it's the alchemy of all the previous abilities together that create a transcendent work.
Great works of literature appear to reach beyond the author, beyond trying to please a reader and beyond conforming to convention. These award-winning writers create profound works because they touch on universal truths. Ernest Hemingway gave this writing advice, 'All you have to do is write one true sentence. Write the truest sentence that you know.'
It takes courage and vulnerability to be brave, raw and truthful in your writing, but every great story depends on it.
As you consider your own writing, keep these levels of abstraction in mind. Where are you with your writing, and how can you push through to the next skill level?
Study creative writing with one-to-one tutoring by an award-winning writer.
Turbo-charge Your Creative Writing and Write Your Manuscript in One of 13 Specialised Courses
Get Notified About Global Writing Contests
Sign up for our free bi-monthly newsletter with writing tips and deadline reminders for writing competitions.