Learn How to Write a Standout Script for Stage, Screen or Radio
All the tools for scriptwriting in one course
The Scriptwriting Course is for anyone who just knows they're born to tell stories. They also want to see their work produced on screen or on stage in New Zealand.
Whether you're a novice wanting to learn more, or an experienced writer in another genre keen on diversifying, this course guides you through the essential building blocks of scriptwriting, from creating characters and dialogue to understanding structure.
From first idea to final draft, this course will teach you how to write a compelling script.
The Scriptwriting Course Gives You...
Master the Basics of Scriptwriting
A scriptwriter's essential toolkit
The Scriptwriting Course breaks down the essentials of crafting a script into ten modules. We look at the different elements of scriptwriting in isolation before bringing them all together to create a short script that engages, entertains and is written in your own unique voice.
Created by a writer with experience in all genres, the course highlights what makes scriptwriting unlike any other form of writing.
Natural dialogue, subtext, characters that come to life, how to write visually: it's all covered here in these ten targeted modules.
Master the Basics of Scriptwriting
A scriptwriter's essential toolkit
The Scriptwriting Course breaks down the essentials of crafting a script into ten modules. We look at the different elements of scriptwriting in isolation before bringing them all together to create a short script that engages, entertains and is written in your own unique voice.
Created by a writer with experience in all genres, the course highlights what makes scriptwriting unlike any other form of writing.
Natural dialogue, subtext, characters that come to life, how to write visually: it's all covered here in these ten targeted modules.
'A great experience. Karen was knowledgeable and incredibly supportive. Fantastic course. Well worth the money!'
Kerryn Campion, The Scriptwriting Course
The assignments vary in length.
These modules include around 200 pages of course notes.
Work at your own pace – up to a maximum of 12 months.
Working with an individual tutor means you can start the course at any time.
Basic writing skills are essential.
Computer skills, e-mail and Internet access required.
No previous tertiary qualification required.
Our Graduate Students'
Successes
We are proud of our graduates who have achieved success. Here are a few among dozens of our creative writing success stories.
Martin Steyn
Martin Steyn completed the Write a Novel Course. He had his first novel, 'Donkerspoor' ('Dark Traces'), published by Lapa in 2014. The book was an instant success and bestseller, and had to be re-printed. His second book, 'Skuldig' ('Guilty'), received even greater acclaim. Since then, he has written two more novels.
Gareth Ward
Gareth Ward's novel that he worked on during the course went on to win multiple awards. 'The Traitor and the Thief', a rip-roaring young adult steampunk adventure, won the 2016 Storylines Tessa Duder Award, the 2018 Sir Julius Vogel Award for Best Youth Novel, a 2018 Storylines Notable Book Award, and was a finalist in two categories at The New Zealand Book Awards for Children and Young Adults. Gareth has this to say about studying with The Writers College: 'Hand on heart, there is no way I would have been published without Alex's guidance.'
Trish Nicholson
Trish Nicholson, a former Short Story Course graduate, keeps notching up successes on the writing front. Trish won first prize in the Flash500 competition, with four stories shortlisted during that year. She won first prize in the 'shorter story' at the Winchester Writers' Conference in the UK, as well as runner-up in the 'short story' category. Two of her stories were commended in the South Island Writers' Association competition. A finalist in both the H.E. Bates Short Story Competition and the Neil Gunn Writing Competition, Trish is one of our most successful creative writing graduates yet.
Suzanne Maine
Suzanne Main completed the Basics of Creative Writing Course. Her children's novel, 'How I Alienated my Grandma', won the 2014 Storylines Tom Fitzgibbon Award.
Andy Evans
Andy Evans completed the Basics of Creative Writing Course and the Literary Short and Flash Fiction Course. He had his first short story, 'The Wooden Hills', published in 'Takahē' magazine. He placed third in the NZ Writers College Short Story Competition with his story 'Gravity'.
Taemumu Richardson
Taemumu Richardson was shortlisted in the Writers' Forum Short Story Competition. This is a big achievement as this competition draws a huge number of entries globally. She was also shortlisted for the Flash500 flash fiction competition, longlisted in the NZ Writers College Short Story Competition and received an honourable mention in the L. Ron Hubbard Writers of the Future contest. Tae had a story published in the literary magazine 'Takahē'.
Megan Frith
Megan Frith completed our Short Story Course and our Novel Writing Course. Her short story 'Scars' came first in the 2014 Page & Blackmore Short Story Competition. She went on to place third in the 2015 Page & Blackmore Short Story Competition for her short story titled 'Till Death'. Recently, two of her stories were published in 'Horizons 2', an anthology compiled by the Top of the South branch of the NZ Society of Authors.
Karen has been on our staff for over 15 years. Over the years, she has established herself as a hugely popular and respected mentor for emerging scriptwriters. She studied drama and linguistics at the University of Cape Town and obtained her Honours in The Art of Writing from the University of Western Cape.
Karen has won numerous awards and nominations for her co-writing of TV series, including two Emmy nominations for Best TV Comedy. Currently, she is the head writer for Both Worlds Productions, overseeing ZANews: Puppet Nation (winner of 22 South African Film and Television Awards and two Writer's Guild of South Africa Awards for Best TV Comedy), as well as Point of Order (SAFTA winner for Best Game Show in 2017), Comedy Central News and Parlement Parlement.
Before joining Both Worlds Productions, Karen had extensive experience writing and producing in both theatre and television. Her plays include the multi-award winning Everybody Else (is f*cking perfect) (Best Comedy 2005), Kiss Kiss, I'll Have What She's Having and Laying Blame, as well as Vaslav, which was nominated for three Fleur du Cap Awards. She served as head writer for 90 Plein Street, as well as writing for shows like Thabang Thabong, Vaya Mzansi and Moferefere Lenyalong. She is in demand as a script consultant and advisor, working with local and international production companies and channels. Today she serves on the board of Women Playwrights International and was the president of the International Centre for Women Playwrights for six years.
Her achievements aren't confined to television and theatre. Her adaptation of Thomas Rapakgadi's The Purse is Mine aired on Bush Radio. SAfm has featured her excellent series Office Hours, co-written with Nkuli Sibeko, as well as the radio version of Sky Too Big. Her teen novels, Jacques Attack, co-authored with Nkuli Sibeko, and Flipside, co-authored with Eeshaam September, were released by New Africa Books. She also has a children's story published in the anthology Metz and Bop and Other Stories.
Karen tutors the Scriptwriting Course and the Advanced Scriptwriting Course. When she isn't busy, she indulges her deep obsession with reality television, Good Omens, chaos theory and Nutella.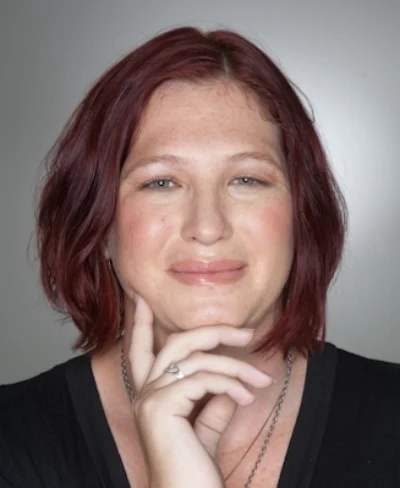 Understanding the role of the scriptwriter in film, theatre and radio
Exercise: Write a review of a film or a play, focusing on how the script succeeds or fails.
The dos and don'ts, or the rules and how to break them
Exercise: Write an anecdote from real life. Then rewrite it with a different structure and see how that changes the story.
How to create characters, flesh them out, and let them have their way
Exercise: Create four well-developed characters that grow out of the story structure you created.
Text and subtext
The difference between written and spoken text
Exercise: Analyse the sample scripts. Take two of your characters and write a dialogue between them.
Scripts as performance material
Exercise: Using your other two characters, write a scene with little or no dialogue, focusing on action.
Where to start and how to end
Exercise: Analyse the examples. Then write two possible beginnings and two possible endings to your story.
Understanding the strengths and limitations of different mediums
Exercise: Write a detailed explanation of which medium: Screen (film or TV), Stage, or audio (radio, digital or podcasts)) is best for your script and why.
Discussion of the New Zealand scene
Exercise: Write a treatment for your script, including characters, a scene breakdown and sample scenes.
Being brutal and 'taking it out' while maintaining the truth
Exercise: Take a sample scene and cut it down to the minimum. Look at the order of your scene. See if you can change things around and what effect that would have.
Opportunities for Writers

Putting it all together
Exercise: Write a final script review, taking note of what works and what doesn't.
Exercise: Complete your short script.
This course offers an advanced course option
Ron Moller
The Scriptwriting Course

I loved every moment of it. The knowledge I gained fills me with great excitement for the future. Karen was such a blessing!! Knowing that there is someone on the other side with so much experience gives you so much confidence in approaching the assignments. The feedback I received raised my understanding of the whole scriptwriting process. I would however remind other students that it is not spoon-feeding. The information is very good, however you need to get out there and work it. Overall, it was a very positive experience. The Writers' College delivers a high quality experience to the open student.
Janet Osborne
The Scriptwriting Course

I had a specific objective in mind when I did this course and the college helped me achieve this. Along the way I gained new skills and ideas. The exercises and assignments helped me to think outside the square and the feedback was extremely helpful and steered me in the direction I needed to go, without being stressful. My tutor was always supportive and always replied even to the smallest questions or queries. Overall a good experience.
Ursula Smuts
The Scriptwriting Course

I would describe the course as informative and interesting and very useful. It was definitely worth it; you learn all the necessary tools for the trade you're interested in.
Hannah Green
The Scriptwriting Course

The Writers' College provides an informative and quality course. Karen is an excellent tutor who is swift with her responses and provides objective, constructive criticism that helps steer you in the right direction. Karen offers a great course. Her notes are comprehensive and contain information about additional reading that allows one to explore the field in more depth. She has a professionally trained eye that points out where your script fails and succeeds. She is great tutor who is willing to be honest and answer any questions you have along the way. The Writers' College is a professional college that leads the field in writing courses. I would recommend writers from any field to invest in what they have to offer, in particular the practical application of what you learn.
Petro van Rooyen
The Scriptwriting Course

I really enjoyed the course. It was a personal journey for me. My tutor was excellent, her feedback extremely objective and well-balanced. I will certainly recommend your college to other aspiring writers as well. I have already started the novel course.
Lunga Khuzwayo
The Scriptwriting Course

It was an enjoyable experience. I learnt enough to kick start my career in Scriptwriting. My tutor was very helpful and always willing to answer questions I had for her. A great way to learn without having to step inside a classroom.
Get These Additional Benefits
Risk-Free 100% Money-Back Guarantee
We are so confident that you will love your course that if you're not 100% satisfied with the quality of our training, simply ask for a refund within 30 days.
Complete the Application Form to Enrol on the Scriptwriting Course
You will receive an approval email and invoice within one working day.
Questions?
We've Got Answers
'Karen (my tutor) was very helpful, I learned a lot from her. This course was so inspiring.'
Stanley Denga, Scriptwriting Course
We would love to help you choose the best course for you. Tell us what style of writing you want to develop and we'll give you some options.
Other Writing Courses That May Interest You
In this course, we provide the tools you need to write literary short stories. We also share tips on how to get them published in print and online journals.
Acquire the skills you need to write saleable short stories for magazines – plus how to stretch your imagination and stimulate your creativity!.


This online course teaching you the basic skills of poetry, including line length, figures of speech, metered verse, tone, imagery and lyrics.