A human-interest story can develop an intimate connection between the writer and the reader. To capture the essence of a story about your own life, there are some challenges to be aware of and navigate.
By ANDREW BAIRD
Writing about your life can be cathartic and help others with their journey. It can spark an authentic connection with your reader and show them they are not alone in their challenges. However, you'll need to be prepared to traverse some new challenges of your own.
Let's explore more!
Embracing emotional writing
Are you ready to write about your personal story? Ponder this question first.
Be open to the emotions that could come up. Be ready for these emotions to challenge your well-being, and perhaps be set free.
In writing about my life, there were moments when I couldn't see the screen through tears. I had to walk away to recover. This pain had benefits though. Firstly, the words that followed were authentic and raw. Secondly, this was such a key part of my journey through the challenges of the past.
Let's see how emotional writing can impact the reader's response.
"Our relationship ended because of the little things that couldn't be resolved" is plain and vague.
Alternatively, "We'd built a brick wall out of the niggly small things in our relationship, a wall so tall we could no longer see each other. Taking this well-built wall apart felt like a monumental task. Our only path was to separate."
The second phrase is more visual and emotionally charged – the reader should feel the difference.
Structuring your writing
A story about your own life has many layers and depth. It is somewhat mission impossible to share all those details in an article. Focussing on the right content is paramount.
Ask yourself, what are the key aspects of my story?
It is beneficial to first create a high-level outline of the key moments, add detail, and then fine-tune. The place you'll get to will be the best of your story. It will focus on what is needed for the reader to follow your journey.
Extra tip – keep a pace that engages! It's easy to write too much. Varying sentence lengths and artful placement of key messages are a couple of ways to power-up engagement.
Read more:
Eleven Ways To Draw In Your Reader
Give Your Writing A Makeover: Show, Don't Tell
Writing boldly and vulnerably for connection
It can be scary to share a story from your own life. It takes bravery, a bold mindset, and vulnerability.
By writing with these in mind, your reader is likely to resonate and relate to your story more intimately – and perhaps gain a fresh view of their own life.
Vulnerability is a big topic! It's one that Brené Brown has researched and written about for two decades. From Atlas of the Heart, Brené Brown writes "Vulnerability is not weakness, it is our greatest measure of courage".
This statement speaks to the power of vulnerability. It can also speak to what vulnerable writing is – an output of strength and courage.
For instance, in my writing, I shared how my snappy words were disrespectful and pushed my partner away, subtly, and slowly. Through writing about tough things, I could understand my impact on our relationship. I've been able to work on myself, be uncomfortable, and change.
An enduring positive is that bold and vulnerable writing is cathartic. It fuels growth from discomfort. It can be your path to inner peace, and freedom from the past.
Read more:
5 Practical Tips for Writing with Vulnerability
About the Author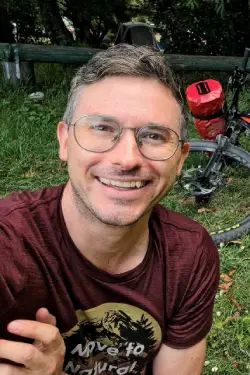 Andrew Baird is a freelance writer living in Wellington and is also a team leader at an engineering consultancy working on projects in the electricity sector. When Andrew isn't writing or engineering, you'll most likely find him exploring the outdoors, a new place, or connecting with his friends and family. Andrew is also an advocate for enjoying a balanced life that is kind to others and our one planet.