It's never too late to start a career in travel writing. Here, Chris Shorrock focuses on five travel writers who show that with hard work and perseverance, you can succeed.
Travel writing is what dreams are made of.
Whether it's an African overland odyssey, reviewing upmarket hotels in Ko Samui, or weighing up the best European river cruises, you're getting paid to travel the world. What's not to like, right?
So, what's stopping you?
Of course, there's the day job, the nine-to-five, the daily grind getting in the way. The comfort of the routine. Add to that competition from the masses of free travel blogs and Instagram influencers. So yeah, making a living from travel writing has probably never been more challenging.
Well, I'm here to tell you that your dream job is still possible.
Here are five travel writers that show it's never too late to start your travel writing career.
Best-selling author, Bill Bryson
Sure, he's well known now, with honorary degrees from a host of universities and a small library of published books. But Bryson started out as a university dropout. And even spent some time working at a psychiatric hospital in the UK before his career took off.
He did go back and finish that degree in the end, too. If at first you don't succeed…
Adventure travel writer, Peter Moore
Aussie travel writer Peter Moore quit his job in advertising to travel around the world, following the equator.
His resulting book was promptly rejected by every publisher he approached. Peter returned to advertising, and then quit again. He finally got his lucky break when a new publisher picked up his second – also widely rejected – book. His career took off from there. He now has six published books to his name.
Nobody said travel writing will be easy, but at least it will be an adventure.
Raynor Winn never expected to become a best-selling writer
Finding herself homeless at fifty, Raynor Winn set off with her terminally ill husband on a mammoth 1,000km walk around the Cornish coastline.
The lowest point in her life became a journey of renewal and ultimately a Sunday Times bestseller.
Hopefully, you won't have to overcome the same challenges as Raynor. But her epic story of triumph can at least give you hope of travel writing success.
Eric Newby was one of the travel writing greats
Made famous by his 1958 book, 'A short walk in the Hindu Kush', Eric Newby was one of the greatest travel writers of the 20th century.
Still, it took time and effort.
Newby spent the first 17 years of his post-war career on and off in the women's fashion industry before becoming travel editor for The Observer newspaper.
It will take time and perseverance, but travel writing can be combined with an existing career until you get that big break.
Kiwi travel writer and journalist, Ewan McDonald
As features editor at The Herald, Ewan founded The Herald's Travel magazine. He's still a regular contributor, with travel articles spanning the globe, and he and his teams have won more than 50 national and international writing awards.
Now a tutor at The Writers College, Ewan has a wealth of knowledge on travel writing and the travel industry in general.
While he has been a journalist all his working life, getting into travel writing for him was a case of being "in the right place at the right time".
Starting your travel writing journey
Of course, these are some intimidating footsteps to follow. And as Ewan McDonald also said, it could "easily have been very much the wrong place at the wrong time."
It's unlikely to be straightforward. It's not going to be easy. But it all starts with hard work and a first step.
Who knows? You, too, might just find yourself in the right place at the right time.
About the Author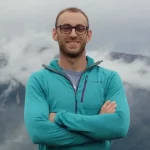 Chris Shorrock has spent the last ten years travelling the globe between stints in his trained profession, dentistry. He has lived in the UK, Eswatini and New Zealand. When he's not writing (or fixing teeth), you'll find him exploring New Zealand's backcountry or lazing on a Pacific Island beach.