BY CLAIRE MUIR
How writing has taught me to embrace my active mind.
In his 1980 book,Ways of Escape, British author Graham Greene wrote, 'Writing is a form of therapy.' When I began my writing journey, therapy wasn't in the plan. But now I welcome the revelation that, as a writer, my undervalued, sometimes wasted observations and opinions are finding purpose.
The untamed mind
I think. A lot.
I've been described as analytical. An overthinker. A dreamer. Lost in thought.
I have epiphanies, solve the world's problems, pose complex questions, provide reasoning, predict outcomes and describe pretty much everything … all in my head.
However, I'm easily distracted by a thought, and I fail miserably at quick, witty retorts. I have a thorough mind, not a quick one.
Without sufficient deliberation, my words can tumble out uncontrolled or else bottleneck due to the sheer volume of material vying to escape, akin to developmental stuttering in children.
Some ideas remain internalised, and with time, they are pushed into the recesses of my memory. Reminders that 'storage is running low' present as a bizarre sense of losing something of importance – surely it is the loss of ideas, and not my mind itself?
An outlet for my thoughts
It's often following discussions with long-suffering friends or a compelling reading session, alone with my mind, that I have my most significant thoughts. I have often wondered; will I recall these momentous ideas? What do I do with these insightful snippets? Do my thoughts offer anything meaningful or are they just noise?
When I first enrolled in a writing course, I simply wanted to become better at something I enjoyed doing. I didn't anticipate the overwhelming realisation that all the ideas, opinions and descriptions that constantly fill my head would now have somewhere worthy to go.
Now, writing is a channel for my thoughts, a network to feed information. Meaningful writing has become my most prized outlet.
Writing as therapy
Simply putting those shower thoughts on paper is therapeutic. I have time to consider, but I am also better aware of the 'why'. This places value on the message. My mind describes that message, but now I can refine it with considered prose.
As Keziah Freimond declares in her article, '[writing] takes an idea the size of a mustard seed and gives it room to grow into a mountain that consumes the mind and soul.'
Confusion is replaced by a sense of calm, as purposeful writing is now justification for my active mind to wander undeterred. Finally, my adventurous mind has found validation.
Embracing the overthinker
The act of writing overturns the misconception that my mind is storing useless information and mitigates the sense of loss that these thoughts have nowhere to go.
I write what I am thinking and embrace what I produce. My creations are more than mere thoughts; I can invent scenes, insert important detail, build an atmosphere, name a behaviour. My challenge is to beam exactly what is in my head into the reader's head. It takes time and patience, but I am honing my ability and welcoming the information the overthinker in me collects and reflects upon.
My thoughts now take a form I am proud of, increasing the likelihood that I'll share them rather than keep them within the confines of my head.
It's taken 48 years, but I finally feel a sense of relief. Who would have thought that the therapeutic effects of writing would be so profound?
About the author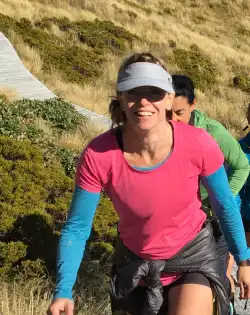 Claire Muir declared New Zealand home in 2000, while on her OE from England. A master's graduate in environmental science, she only discovered her passion for writing much later, alongside her interest in people and what makes them tick. She now lives in Rangiora with her husband and three teenage children. When she isn't writing, she's up a mountain or cheering on her active children.